Project: Osmosis system for the Aneñja Vihara
Many of you have already been to the Anenja Vihara monastery and have surely noticed that we are supplied with spring water. That would be very fortunate if this water came from a mountain spring! Unfortunately, our spring is not deep enough. It is a so-called spring with surface water, in which everything that lies on the way or swims around is transported.
In spite of regular, official drinking water testing and existing UV equipment, there are often impurities in the water, which can neither be seen nor tasted.
For sensitive people, this leads to unpleasant stomach and intestinal problems after a few days/weeks. To keep this in check as far as possible, we buy a lot of mineral water. In order to save costs, which is always a concern for the nuns, water was mainly bought in plastic bottles!!!
For these reasons alone (plastic, sustainability, health) there is actually no other alternative!
The planned city water pipeline is still a long way off, but even then the continued use of the water filtration system makes a lot of sense.
For this reason we intend to purchase an under-counter reverse osmosis system which is offered by a reputable Munich company in direct sales. After intensive research and extensive advice, we are very impressed by the 'MisterWater' products.
If you are open to our project and would like to support it, we thank you from the bottom of our hearts!!!
The water filtration system is now installed. The nuns and monastery guests (even the little ones) can finally use water from the tap without getting stomach problems. Many thanks to all donors and supporters!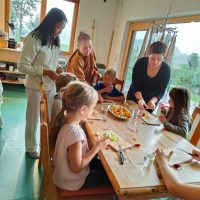 Project: venerable Bhikkhuni Silavaddhani
place: brandenburg/Spree-Neiße, germany
Venerable Bhikkhuni Silavaddhani ordained as aspirant (Maechee) with Most Venerable Phra Ajarn Tong Sirimangalo as preceptor at the beginning of 2010.In June 2012 followed the ordination as novice (Samaneri) in Sri Lanka. With the permission and support of her teachers and preceptors she received the Higher Ordination as Bhikkhuni in January 2019. In October 2014 she was appointed as a meditation teacher by Most Venerable Phra Ajarn Tong Sirimangalo.
Currently she lives and directs the Dhammanikhom Vipassana Meditation Center. The Dhammanikhom is a place where Buddhist teachings and Vipassana meditation (insight or mindfulness meditation) are taught. All people who are interested to live and practice the Dhamma are welcome. Furthermore it is a partially a monastic establishment where nuns or postulants can practice Vipassanā meditation and tread the monastic Path according to monastic rules.
All arising costs are covered solely by voluntary donations. According to the Buddhist tradition the participation in the courses is free of charge.
Project: supporting monastics/Dhammanikhom
Project: monastic medical support
Place: nunnery Aneñja Vihara

Ayya Phalañāņī Bhikkhunī and her 5 novices, Sāmanerī Anuviditā, Sāmanerī Vinītā, Sāmanerī Rakkhītā, Sāmanerī Saccikā, Sāmanerī Jutindharā, live in the Buddhist nunnery Aneñja Vihara. Like all of us, they have to have health insurance. At times medical assistance that is not covered by insurance is needed. Medical care is one of four requirements that the Buddha allowed as a necessity for nuns and monks. The cost of medical care and health insurance is an ongoing expense and we welcome your support for the monastic medical fund.
purpose: monastic medical support
Project: maintenance Aneñja Vihara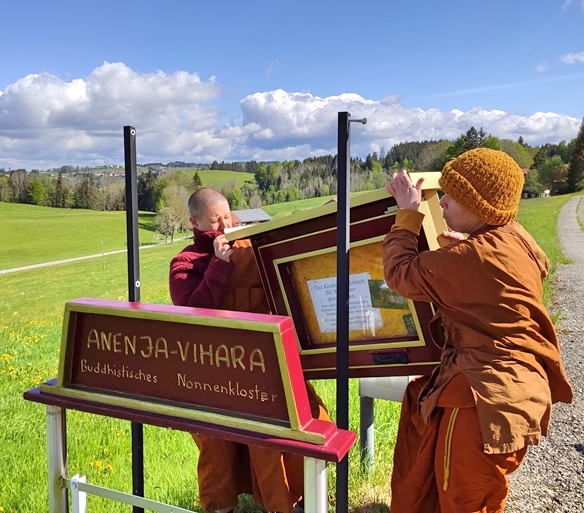 purpose: maintenance Aneñja Vihara
The nunnery Aneñja Vihara is entirely dependent on donations for the running costs and for the maintenance of the monastery buildings. The buildings are quite old and major repairs are not the exception. The nuns are very hands on and try to maintain the monastery as best as they can. They don't shy away from repair work and fix whatever they can, but major restoration and maintenance work, such as roof repairs, excavations, and construction work, must be done by professionals.